In the northwest corner of Penang island, Malaysia is a fishing hamlet called Teluk Bahang—roughly translated "Heatwave Bay."  Because this small town is majority Malay Muslim, it comes as a surprise that here is located a Hindu temple that's fairly important to local devotees—Kuil Sri Singamuga Kaliamman. 
It's not important because it was featured on "The Amazing Race" (Season 16, Episode 8), but because it's the venue for an occasional annual Hindu events.
My first hint that something was up came on night when I was out shopping & saw a sizable kavadi—Hindu religious burden built from styrofoam & wood—being assembled a month after Thaipusam ended. 
When you think you've got Christmas "down", but then see someone decorating a Christmas tree in February, it's time to embolden yourself to ask some questions.  I did, & learned about Water Thaipusam—held about a month after the more well-known regular Thaipusam.
On the appointed date my wife & I walked to the shore & saw masses of Indians converging on Teluk Bahang's beautiful long beach.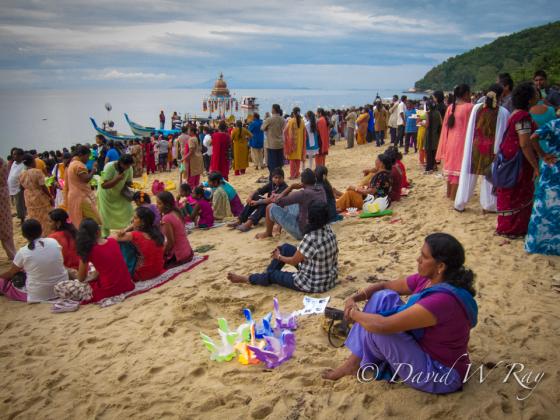 Stands had been set up to help most attendees who had not brought a kavadi.  So, as people disembarked from their buses & cars they bought colorful little foam candle floats shaped like swans or flowers.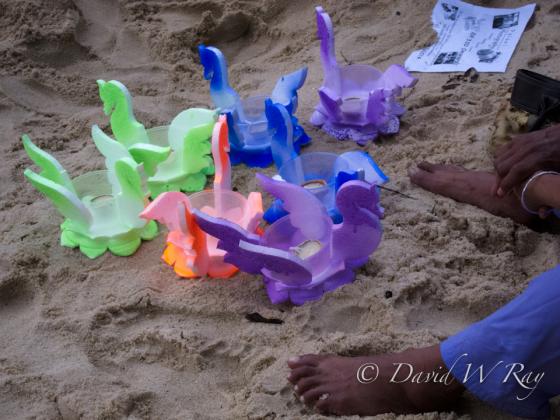 Some brought larger fire-bearing floats.  They make wishes & lift up prayers at the waters edge, then push their offerings out into the waves.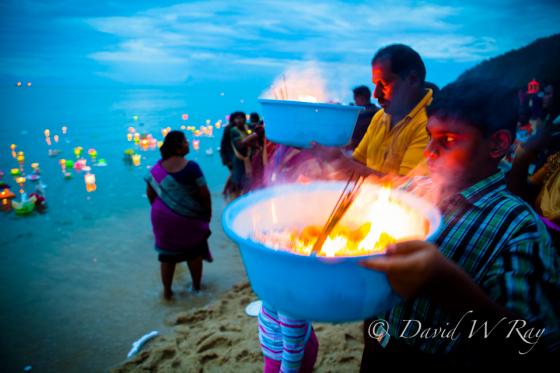 A brightly lit barge is towed out into the bay blaring loud Indian music.
Amazingly, an educated Indian couple admitted to us that they didn't know very much about the ritual & its meaning.  They'd come a long way from out of town seemingly more interested in enjoying this mass gathering of Indian folks than in religious value.
As the final rays of sunlight failed, the sea was aflame with thousands of candles slowly floating east from Teluk Bahang toward Georgetown & the coast of the Asian mainland.