Sunrise on Borobudur Buddhist Shrine
You're going to want to stay tuned after viewing this.  I'm not just telling you about a very cool place I visited to photograph.  This is a world-famous site where I hope to lead YOU to photograph in the months to come.
 Borobudur is the largest Buddhist shrine in the world, located in Central Java, Indonesia.  A Javanese Hindu king built it between the 8th & 10th centuries.  In 1006 AD/CE nearby Mount Merapi exploded covering the site, & much of the kingdom's capital in meters of volcanic ash.  The kingdom collapsed, and Borobudur was lost to the world for 800 years.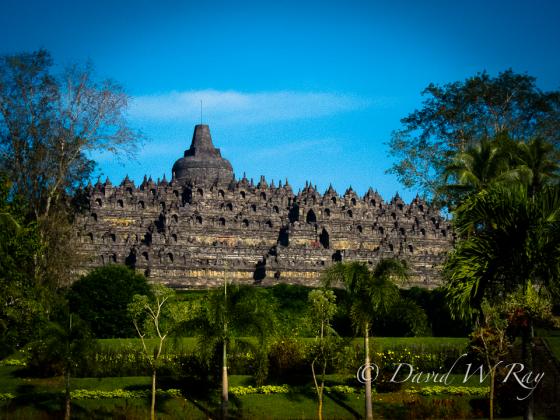 The Dutch colonized these Dutch East Indies, but didn't care much about "antiquities" during their couple hundred years here.  Then came along Thomas Raffles, a young, energetic, idealistic & fiercely curious British colonial administrator.  His keen nose sniffed that there were great antiquities to be found in Java, & he sent agents all over the island seeking to discover them. 
Lore has it that one of his British officers was traveling by carriage on the single dirt track from Ambarawa to Yogyakarta when he stopped at a small village for a drink.  He asked locals if they knew of any ancient ruins in the area.  They told him about a mysterious hill a few kilometers to the West & barely visible from the road.  They said that everyone around feared to go near the place except a few brave villagers living near its foot.  Stories said that the faces of stone men sometimes emerged from this hill, and so the Javanese believed it was severely haunted.
The Brit immediately diverted his carriage & headed west, and he became the first Westerner to ever see Borobudur—a shrine that covers an entire hill, with multiple levels for pilgrims to traverse & stupas—each holding a Buddha figure—covering the upper stories.
Borobudur has been renovated multiple times & is now a UNESCO World Heritage Site.
Everyone who travels through Java should see it.  But there's nothing like what we recently did—climbing Borobudur in time to catch the sun rising from behind Mount Merapi.
My wife & I arrived on the grounds the night before—just in time to catch the moon setting over Borobudur. 
Early the next morning we climbed the shrine in the dark to catch the first rays of sunlight coming from behind Mount Merapi & her sister peak to the left Mount Merbabu.
Soon the sun's light was almost exploding over the shoulder of the volcanoes, casting faint a glow on the stupas.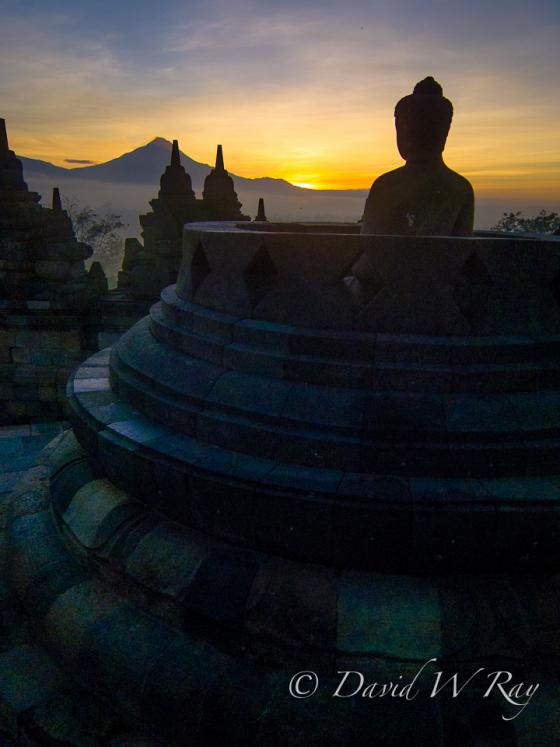 Aspen glow appears on the peak of Mount Merapi.
And finally the rays of the new morning broke over a Buddha's neck . . .
while his neighbor began basking in the first shafts of light.
The west side of Borobudur began to be illuminated—a strange cloud shaped like a question mark hovering over the stupa. 
Batik sarong-clad tourists provided fun compositions as they—stretched to capture the beautiful light . . .
or paused to read-up & try to understand this unique shrine.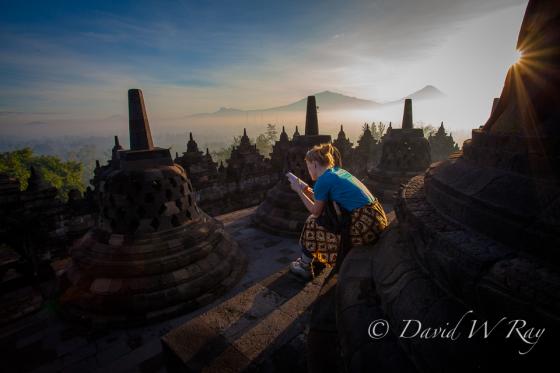 On the way out, I almost forgot to look for a few beautifully lightened establishing shots.
Next blog—photographing sunrise over Borobudur from a nearby hilltop!
Check out our Sept. 14-25 Java-Bali Photo Tour & be sure to sign-up for the extension tour to Jogja, Central Java.  
See more at  www.thedigitaltrekker.com/2013/01/east-java-bali-photo-tour/