NW Bali is a mostly undiscovered treasure.  Where the southern third of Bali is sinking under the weight of Australian tourists & all the bars & souvenir shops catering to them, NW Bali has only recently emerged on the tourist radar.
At dawn one looks west across palm & fish farms, the shadow of a Hindu temple pavilion cast on the trees below, and Mount Ijen & the volcanoes of East Java barely visible on the horizon.
About 20 years ago a couple savvy Aussies came to this impoverished but stunningly beautiful corner of Bali & opened bungalows—but with a difference.  They cut a deal with local village chief that if the villagers would not turn out en-masse on the beaches & village tracks with cases selling watches & sunglasses, then their hotels would make generous annual contributions to the village.  It worked.  Most of the annoying hyper-tourism-on-steroids phoniness of South Bali is unseen here.  Just simple village life, pristine beaches where you walk unmolested by pushy sellers.  Rather you meet generally appreciative locals who've now been able to make a fair living in servicing the growing number of restaurants, or even just renting rooms to tour drivers. 
At the same time, visitors get to see this unique corner of Bali where the mountains look like a tropical version of the Dakota Badlands & the beaches like Polynesia.
Win-win; it's become a good arrangement for both tourists & locals.  So far.
At dusk the near full moon was rising over the beach as a couple stroll enjoying the view.
The next morning a jaunt up to the nearby hilltop temples provided some beautiful landscapes at dawn, as well as great views of Balinese small village life.
The Balinese—like their neighboring Javanese have this delightful obsession with sweeping the dirt roads in front of their village houses every morning & evening.  A young Balinese beauty does the chore under celebrative umbrellas in the morning hues. 
Then, a view to the north from a Hindu hilltop temple reveals the beautiful Java Sea in morning light as a solitary tree penetrates the atmosphere & another, lower, temple mount juts out into the sea.
On the way back through the village we meet a Balinese Hindu priest—like clockwork—putting out his morning offerings on the alter in front of his house.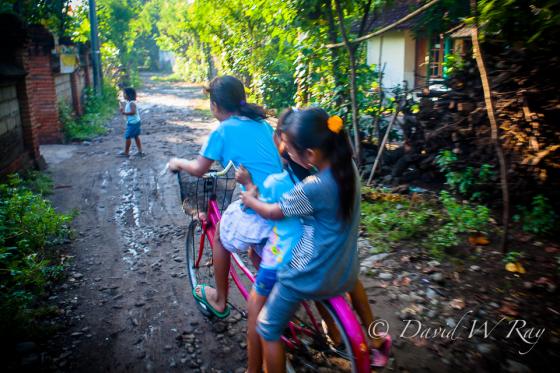 Then we encounter a sisterhood of Balinese girlfriends careening through the village track on their bike, nearly running over other children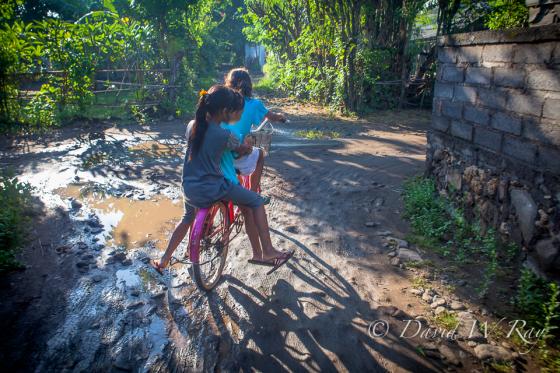 until they amazingly bring the thing to a halt & an opportunity for some close-ups.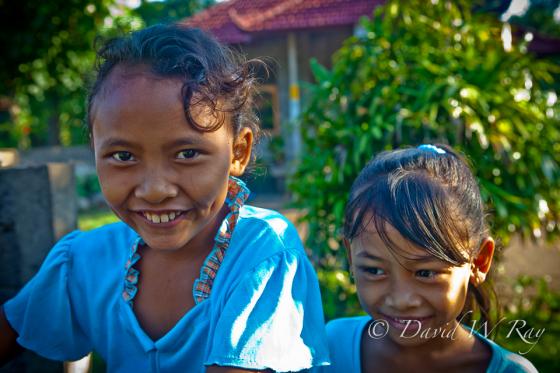 Interested in shooting some of these scenes yourself?  
Join us September 14-21 for our photo tour of Java & Bali including this area.  See info on Matt Brandon's site at: 
http://www.thedigitaltrekker.com/2013/01/east-java-bali-photo-tour/
Sign-up here:  http://www.eventbrite.com/event/5293232200?ref=ebtn
And, hey, as long as you're coming, sign-up too for the Borobudur-Jogjakarta extension tour!