Balinese Fan Painter of Ubud
 Ubud in central Bali is the art Mecca of the Hindu Balinese of Indonesia.  Painters, wood carvers, stone cutters all congregate around Ubud.  In the past you could find them making their masterpieces in cottages along the streets of Ubud.  But with the huge influx of tourists in recent decades, few of those places still exist with nearly all of them supplanted by shops selling mostly generic handcraft wares, but without the artists on site.
But if you ask the right kinds of questions & convince people that you're not just another run-of-the-mill tourist, you may get out into the villages & find artist masters.
Mr. Weda is a true master.  He's created a true innovation by combining the common art of Balinese sandalwood fan making with Balinese traditional painting.  His customers have included government cabinet ministers, a former president, as well as SBY the current Indonesian president.  Elite Indonesians recognize a master artist & innovator.
We meet him at his shop & he begins by showing us some of his simpler designs.  
 He takes us into the cottage workshop studio out back to see how his fans are made.  He uses bronze jigs to cut the sandalwood fan blades in a large press.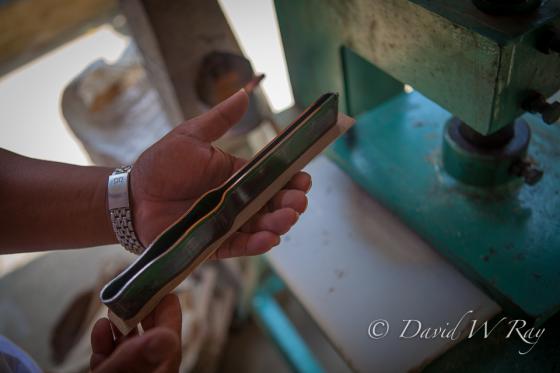 Mr. Weda then checks the blades for uniformity & quality.  
Then he passes them to young girls who come in to work part-time after school.  They sand the blades smooth.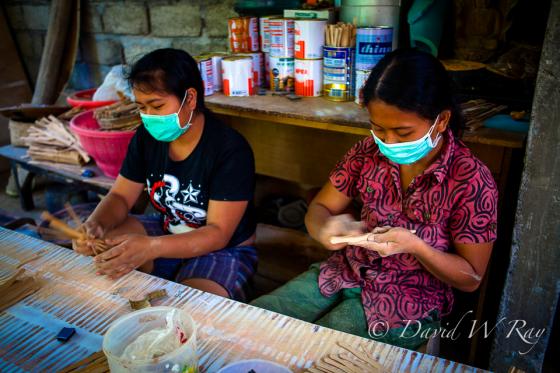 Then Weda drops a stack of the fan blades into a pre-cut wood jig that registers them tightly while he drills the hole for the hinge pin.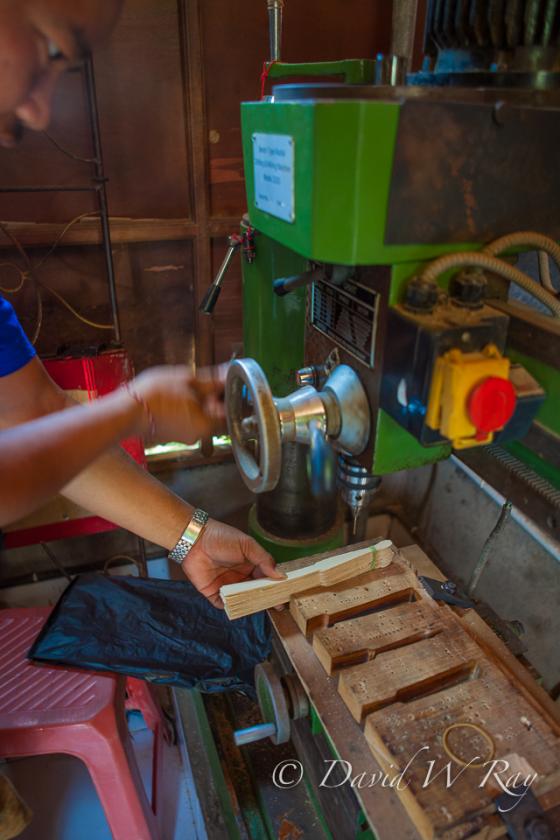 Once the fan is assembled, he works after guests depart to paint Balinese traditional scenes on the overlapping fan blades. 
Mr. Weda makes a uniquely beautiful art piece in his picturesque village collage art studio--a compelling cultural photography subject.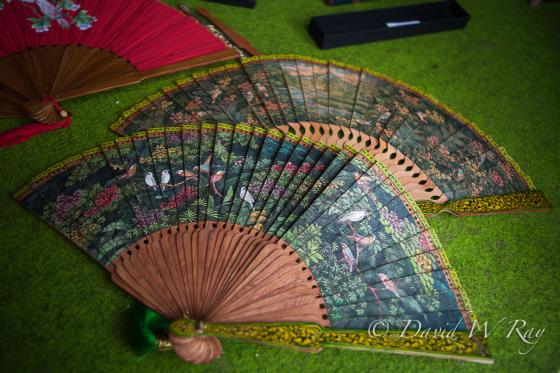 Hey, click on Matt Brandon's blog to see our September photo tour that will take you to Ubud to photograph artists like Mr. Weda at work.  This one's at a special one-time-only, introductory low price.  www.thedigitaltrekker.com/2013/01/east-java-bali-photo-tour/ 
Sign-up here:  http://www.eventbrite.com/event/5293232200?ref=ebtn
Don't miss out!