Last time I blogged about Mr. Weda, the world-renowned Balinese fan painter of Indonesia.  While visiting his cottage studio we had an extra treat!
As Mr. Weda was showing us his stunning traditionally painted fans, I noticed another beautiful subject emerging in the background.  His little daughter—getting ready to participate in a traditional Hindu Balinese dance.
First she emerges in her white dress accented by a yellow shawl.
Her mother skillfully finishes preparing her little girl for her dance by applying make-up in a time-honored traditional Balinese style.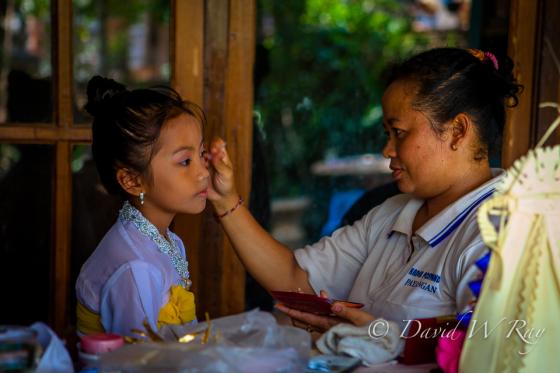 Then they lead us somewhere out the villages surrounding Ubud where the dance performances will be held much later in the day.  Mr. Weda's daughter sits with her little friends waiting for a ritual procession of Balinese Hindus to come so that they can start their dance. 
In Bali it's like that—there's always Hindu worship celebrations going on—seemingly all over the countryside & every day.  A dream come true for any cultural photographer.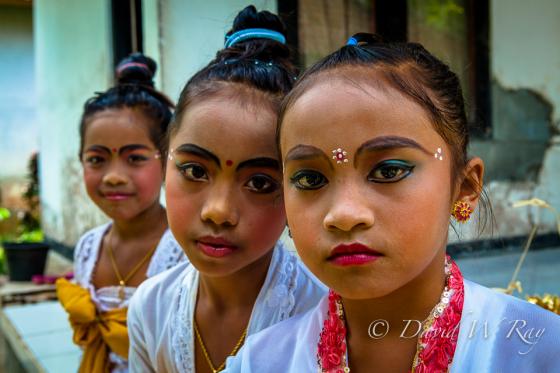 Join us September 14-21 for our photo tour of Java & Bali including this area.  See info on Matt Brandon's site at: 
http://www.thedigitaltrekker.com/2013/01/east-java-bali-photo-tour/
Sign-up here:  http://www.eventbrite.com/event/5293232200?ref=ebtn
And, hey, as long as you're coming, sign-up too for the Borobudur-Jogjakarta extension tour!
Can't wait to see what awesome images you get among these people!