Sarangan Java Hill Station Resort
When the Dutch colonized Java in modern-day Indonesia they struggled with the equatorial heat.  They eventually figured out that the high volcanoes of Java provided cool temperatures—if you could get there.  So they built roads into the highlands & then developed hill stations where they could retreat.
There are several hill stations across Java—the Puncak (peak) in West Java; Batu Raden, Bandungan, Kaliurang & Tawangmangu in Central Java; Sarangan, Batu Malang, Trawas & Tretes in East Java.  Some of these hill retreats are very rarely visited by foreign tourists. 
But they do brisk business with the huge market of domestic Indonesian tourists. 
One of the most interesting in the latter group is Sarangan—on the shoulder of Mount Lawu, which sits precisely on the border between Central & East Java. 
Part of Sarangan's charm is the early morning view of the hill station perched below Mount Lawu volcano—which soon clouds over before breakfast. 
But another source of Sarangan's draw is the stunning beauty of the vegetable fields that cover rolling & steep terrain falling away on all sides. 
A crater lake with speedboat & paddle boat rides thrills kids.  Also, there's horseback riding around the lake & to two different water falls. 
I decided to try something challenging.  I'd been to the waterfalls & forests repeated times. So, I hired a horseman to take me to his village. I wanted to try my hand at photographing Javanese mountain village life from horseback.
It was a cloudy day—which of course is better for portraiture, but which slowed down my shutter speed, making it all the more difficult to focus & capture images in sharp focus from horseback. I found that the Servo Auto Focus on my "rangefinder" pocket camera--Canon S95--functioned more effecitvely than that on my pro Canon 5D Mk II, so I ended up shooting more with the smaller camera.  Eventually my culling deleted more than my normal total of rejects.  But despite my bouncy "tripod" . . .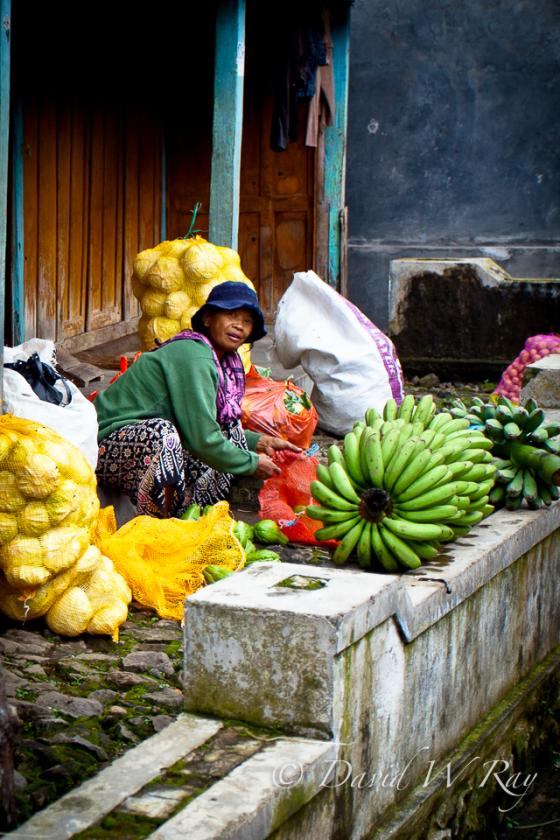 several images were keepers. 
Shooting from horseback brings a unique perspective, shooting down at most close subjects. 
It's an effect that I wouldn't normally like as I'd prefer to shoot at people's level or even as Esther Havens advocates, from below looking up at them & thereby ascribing dignity to them.
But sometimes—especially when imaging people who are doing hard labor—perhaps it adds value to shoot them from above & to let the bright, hopeful smiles on their faces convey their dignity.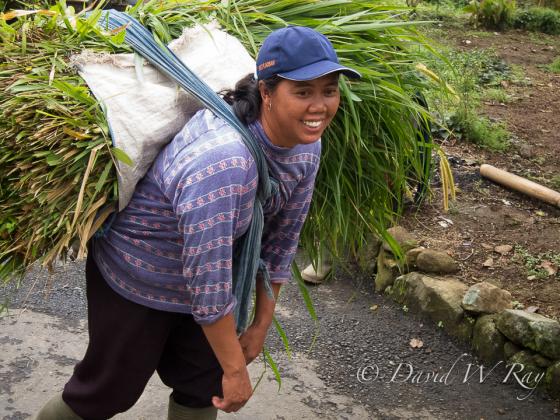 What do you think?
At the end of the day the night salesmen come out hawking sate & other foods from their shoulder pole portable kitchens.  Unfortunately for this seller, an early evening rain chased most tourists back into their cars & rooms early in the evening, . . .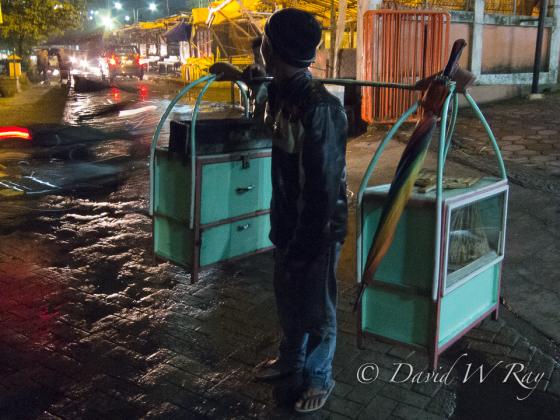 leaving empty, wet walkways around the lake—not a good prospect for making much money.
I've long had a deep appreciation for the highlands of Java—where people & cultures seem remarkably different from that of the masses in the lowlands.  I've thought that someone should produce a photo book on the peoples & landscapes of the Java highlands.  Maybe next year?
A week in Indonesia could do wonders for your portfolio, as well as just giving you some great stories to tell your friends.  This year it's easier than ever for you to arrange it.  Check out our Java-Bali Photo Tour with Matt Brandon of the digitaltrekker.com.  Reserve your spot here at our one-time-only introductory price!  And be sure to make the most of it by also getting in on the Borobudur & Jogjakarta extension tour.