Javanese Shadow Puppet Makers of the Jogjakarta Sultan's Palace, Indonesia
The island of Java, in Indonesia has been documented to have the most fertile soil in the world. The volcanic soil here grows rice like crazy. Where there's abundant food people have time to do more than just look for dinner & culture thrives.  
Many Javanese have long been freed up to delve deeply into the arts.  Batik, filigree silver making, ornate wood carving—some of the world's best of these can be found in Java.  And then, there's wayang kulit shadow puppet theatre!
For centuries the Javanese have been high on shadow puppets.  Don't think mere Bert & Ernie fare.  Here they put on performances that start at 9 PM & last until sunrise nine hours later, typically relating the Hindu epics, even though Java converted to Islam over 500 years ago.
The performances are an amazing concoction of dancing shadows in visual delight, with Javanese gamelan orchestra, dreamy solo notes sung by a Javanese pesinden  singer, and the hyper-dramatic narration by the dalang puppeteer.
But the puppets themselves are remarkable works of art.  We visited one of the premier shadow puppet artist studios within the walls of the sultan's palace in the royal Javanese city of Jogjakarta. 
A simple sign near the guest entry to the palace points out an alley where Classic Wayang Leather Puppet Workshop resides.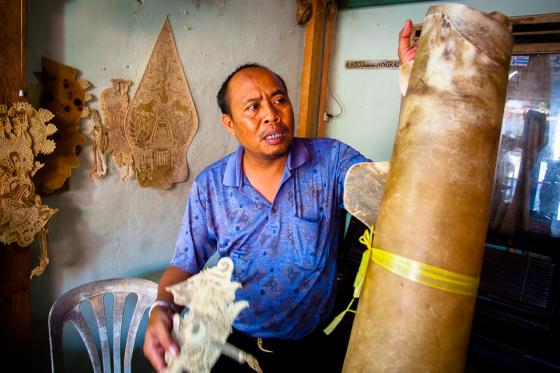 When we arrive Mr. Widodo remembers us from another artist studio where we're regular customers & where he formerly worked.  He starts by showing us the rolls of cow leather the Javanese shadow puppet craftsmen start with to make thin, translucent puppets.
It's always so fun when someone really gets jazzed explaining the glories of their culture to you!  Widodo can't help his excitement as he shows us the extreme detail that goes into carving a high quality Javanese shadow puppet.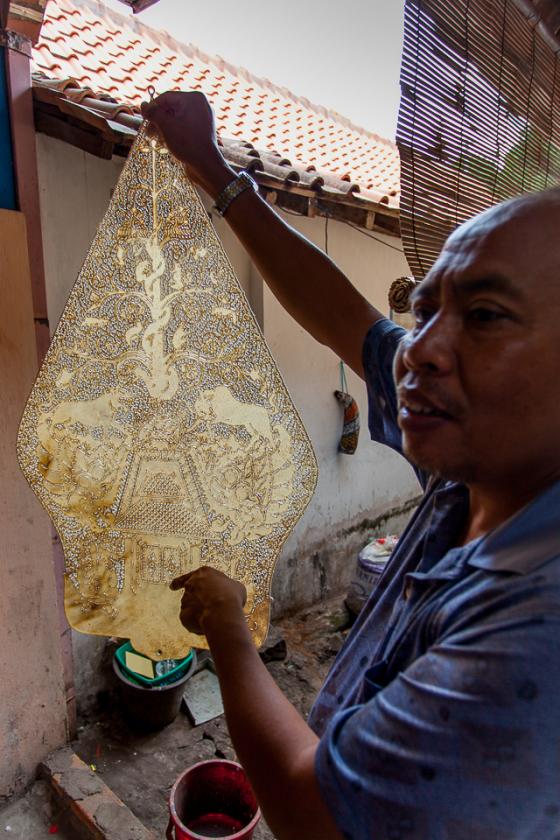 Finally he shows us a newly carved, exquisite gunungan prop.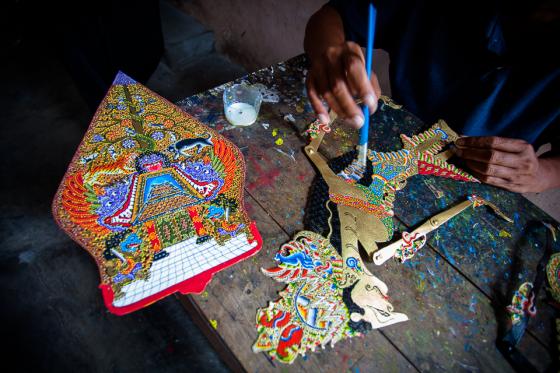 Gunungan means mountain & has a myriad of connotations the Javanese shadow puppet aficionados. 
Typically it connotes royal or even Divine power, glory & authority.  The gunungan symbol is subtly used in multiple shadow puppet drama scenes to connote the power of clashing kingdoms.
On a practical level, even when not being held by the puppeteer as a center of attention, the gunungan is almost always visible on the screen during the full 9 hour traditional shadow puppet play, leaning heavily one way & then gradually the other as the night goes on.  So, if you can't stay awake for the whole performance, upon awakening again, just take a quick look at the gunungan to see how far it's leaning toward the end & how much of the story has already transpired!
Click on this image & notice the remarkable detail of artistic carving & painting on this Javanese gunungan!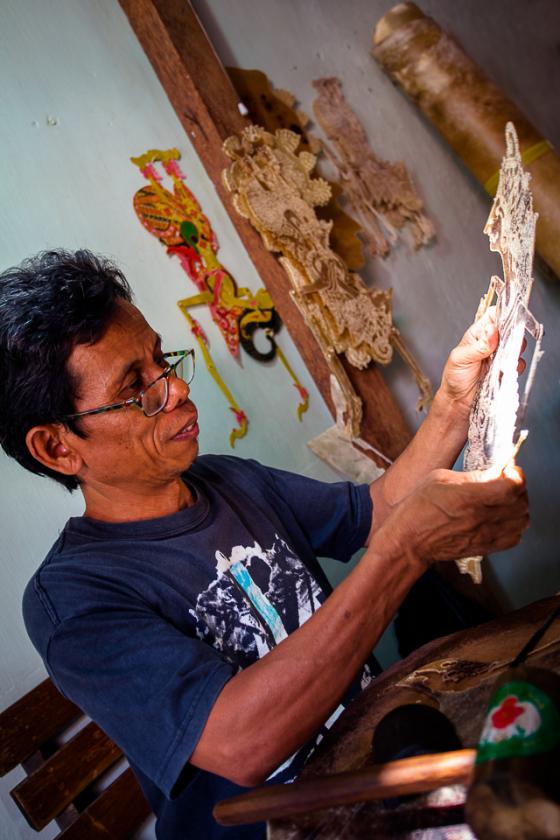 But the most numerous actors in the shadow puppet shows are the puppets denoting humans, angels, jinn & dwarfs.
A shadow puppet craftsman smiles with satisfaction at his masterpiece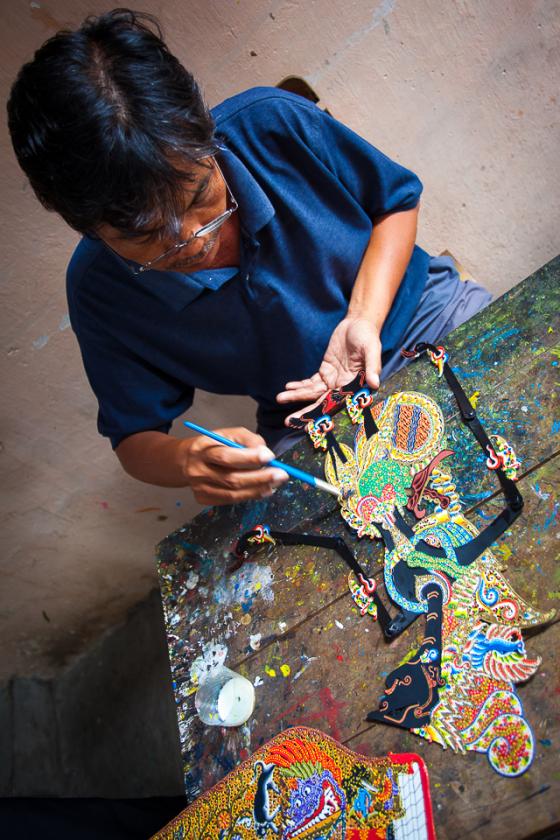 These shadow puppets are intricate masterpieces.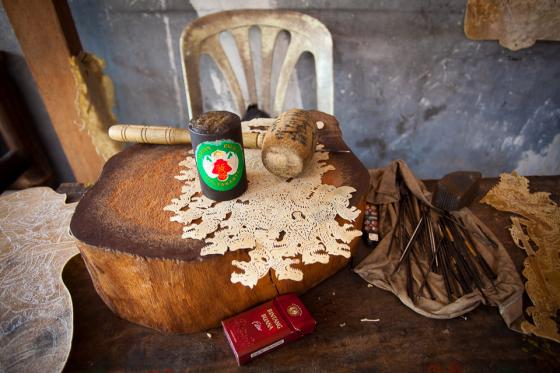 Wayang kulit shadow puppet artistry is very much alive & well among the Javanese in Jogjakarta, Indonesia.
Think you'd like to enrich your portfolio with exotic subjects from Indonesia?  There's still spots left on our 14-21 September Java-Bali Photo Tour (full intinerary here) with Matt Brandon of thedigitaltrekker.com.  
Buy your spot here at this one-time price. And, if you've got the time, opt in for the Java-Bali extension tour through 25 September & you'll add dramatic images of Borobudur & Jogjakarta's batik artists to your collection.  Registration for this year's Java-Bali Photo Tour closes 15 July!