Realistic Indonesian Wooden Puppets of Moesson Antique, Jogjakarta
Most Indonesian wayang golek wooden puppets have a faint resemblance to real humans.  In my last blog I showed you one example in Putro Wayang Workshop of a Javanese woman puppet that moved toward realism.
Not far from the southern gateway through the fort walls of the Jogjakarta sultan's palace one comes to Prawirotaman Street—long a famed hangout for backpacker tourists.  But these days there's an increasing number of higher grade hotels, restaurants & even antique shops on Jalan Prawirotaman.
Moesson Antik/Antique is definitely an impressive shop.  They stock antiques that all have connections to the Dutch East Indies & Indonesia—some that they've tracked down & returned from Europe. 
But it's their collection of very realistic wayang golek wooden puppets that really grab the Indonesian art connoisseur's attention.
Now, admittedly this guy's wife was created for comic relief.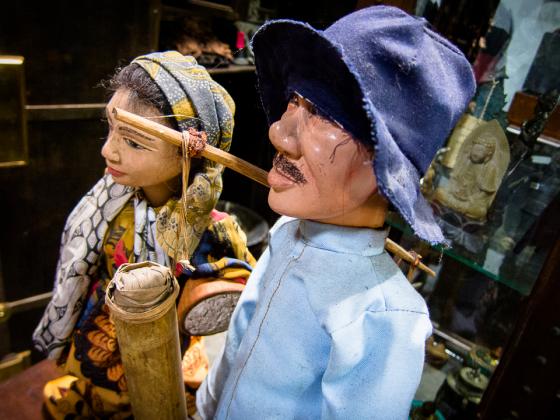 But take a look at this wooden puppet couple, the man using a bamboo shoulder pole to sell arek rice wine, & his wife apparently selling Javanese jamu traditional medicine
Then check out our Javanese grandpa!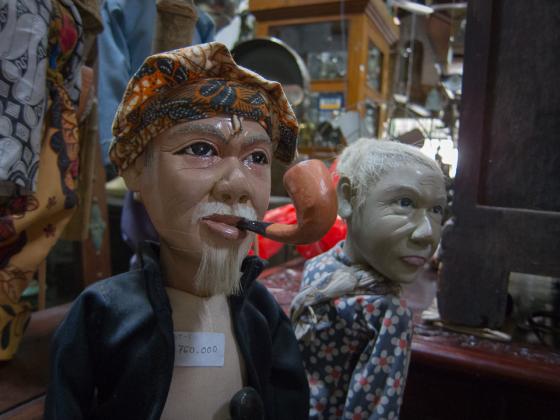 And while we're at it, don't forget the Javanese Grandma too!
Jogjakarta, in Central Java, Indonesia is such a Mecca for SE Asian traditional arts.   Jogja has a bit of everything you've ever heard of, and then some.
Are you keen to take your portfolio beyond the next level by adding a few thousand winning images of Java & Bali?  Register for the Java-Bali Photo Tour with Matt Brandon. There's only a little time left before registration closes on 15 July, & the price for this Java-Bali tour & the extension tour to Borobudur & Jogja will never be this cheap again. We'd love to see you there!